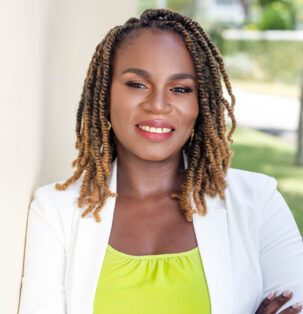 Dana Hayes Burke is a Caribbean expert in business strategy and leadership. Dana is renowned as a Business Strategist, Business Coach, and International Conference Speaker.
Known as "The Vision Builder," Dana has graced international stages in over five countries. Her mission is clear: to equip entrepreneurs with the tools to evolve from mere hustlers to visionary CEOs. Her exceptional contributions were recognised in 2023 when she received the prestigious international award as Business Consultant of the Year for Central America and The Caribbean. She's also been featured in respected publications such as Authority Magazine, Valiant CEO, Caribbean Posh, and The BeyondWoman Magazine.
As a gifted coach, Dana has guided countless entrepreneurs and business owners across the globe to scale their enterprises and boost their profits. Her engaging presentation style and knack for simplifying complex solutions have earned her accolades and testimonials, with clients experiencing transformational "aha" moments. Dana firmly believes in small businesses' boundless potential to achieve significant success. Her passion for helping entrepreneurs scale their businesses has driven her to research the internationalisation of small and medium-sized firms, which allowed her to become published.
Dana also has the academic accolades to match her expertise. She holds a Master's Degree in Management Studies from the University of the West Indies and is pursuing a doctorate in business development and leadership.
Apart from her leadership work, she is also passionate about empowering young adults to break free from limitations and pursue their visions. She has worked alongside organisations like the Microloan Foundation, supporting African female entrepreneurs and contributing her expertise to developing an online Life Skills course in Trinidad and Tobago.
Dana Hayes Burke is primed to lead her masterclass on "Digital Disruption" at the upcoming Disruptive Leadership Conference. Be prepared to be enlightened and inspired by her transformative wisdom.