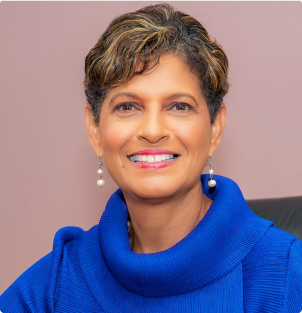 Dr. Luz Longsworth is a trailblazing scholar and dynamic leader passionate about driving transformative change in education, leadership, and organisational culture. Dr. Longsworth's research and professional expertise are anchored in education, leadership development, women empowerment, and organisational transformation and change.
She brings a wealth of experience to the conference, having served in senior leadership roles across the Caribbean. In her illustrious career, Dr. Longsworth has consulted for esteemed organisations such as Ernst and Young (Caribbean), Unicomer (Courts) Belize, and The Leadership Foundation (UK). She had pivotal roles in steering transformation initiatives at institutions like the Development Bank of Jamaica.
Dr. Longsworth boasts a stellar academic background, with a Doctorate in Business Administration in Higher Education Management from the University of Bath, a Bachelor of Arts in Spanish and French, an MBA in Marketing and a Master of Arts in Hispanic Studies.
Dr. Longsworth's dedication to education extends to her tenure as the Principal and Pro Vice-Chancellor of the UWI Open Campus, culminating in 2021. Her remarkable journey continued as she joined the Sandals Resorts International team in 2022, assuming the role of Senior Corporate Director for the Sandals Corporate University.
Beyond her professional achievements, Dr. Longsworth is deeply rooted in community engagement and dedicates time and expertise to empowering at-risk youth in the Caribbean. Dr. Longsworth's impact reverberates globally as an Honorary Fellow of the Commonwealth of Learning (COL) since 2016 and as a founding member of their Commonwealth Wise Women initiative.
Dr. Luz Longsworth is a profound leader who continues to shape the landscape of organisational culture with her unwavering dedication and expertise. Her upcoming presentation on "Organisational Culture and Climate" promises to inspire and enlighten the audience at the Leadership Conference