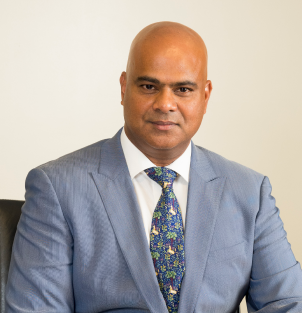 Mr. Anthony Ali is a visionary with a distinguished career spanning Canada, the United States, and the Caribbean, making him a true global influencer in business and technology. Graduating with a B.Sc. in Chemistry from the University of Toronto in 1988, Anthony Ali then embarked on a journey leading him to executive roles in various Fortune 500 companies.
His impressive resume includes positions in operations, sales, marketing, customer allegiance, and strategic planning across diverse industries. Notably, he served as the General Manager of SM Jaleel, the largest soft drink manufacturer in the English-speaking Caribbean, before joining Goddard Enterprises Ltd. in 2013 as Managing Director.
Since taking the helm as Managing Director and CEO of Goddard Enterprises Ltd in 2013, Anthony Ali has spearheaded the company's transformation, driving growth strategies across the Caribbean and LATAM while divesting non-core assets.
Before Goddard Enterprises, Anthony's exceptional career journey also took him to leadership positions in renowned companies like Abitibi-Price Inc., Thermo Fisher Scientific, McKinsey & Co. and Azerty Inc. His remarkable leadership at Azerty Inc. saw the company's growth from $350 million to $1.2 billion before its acquisition. He has also held pivotal roles in logistics, operations, customer engagement, and global sales and marketing. 
Beyond his executive roles, Anthony has served on several boards, including those in the energy sector. He has also co-authored publications and holds patents. He is a true sports enthusiast, reflecting his dedication to teamwork and strategic thinking.
Mr. Anthony Ali will present on "Sustainable Future Driven by Technology and Design," sharing his wealth of experience and vision for a more sustainable and tech-driven future