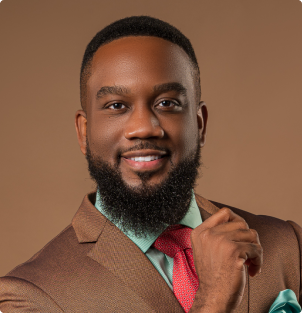 Mr. Raphael Saul is a multifaceted visionary on a mission to transform lives and businesses through strategic leadership and innovation. Hailing from the picturesque paradise of Barbados, Raphael's journey is a testament to his unwavering commitment to excellence.
Raphael displayed a penchant for communication and advocacy from an early age, which laid the foundation for his remarkable career. He embarked on his tertiary academic journey at the Barbados Community College, earning his Associate Degree in Business. His thirst for knowledge led him to pursue a Bachelor of Laws degree, which he accomplished with honours in 2009.
Raphael's career trajectory took an exciting turn when he joined the multinational telecommunications giant – Cable & Wireless Communications – as legal counsel. However, his true calling emerged as he began speaking and consulting for diverse industries, including financial services, insurance, retail, automotive, and hospitality. His consulting company, Vanguard Consulting Inc., provides various services, from customer service training to leadership development. As a PROSCI Certified Change Management Practitioner, Raphael excels in guiding organisations through transformational change.
Over the last five years, Raphael has become a sought-after speaker, sharing stages with international figures such as Steve Harvey. His insightful training sessions have empowered teams across the Caribbean. 
Beyond his corporate endeavours, Raphael is a visionary entrepreneur. He co-founded Transcend Technology, a Barbados-based immersive media company, exploring innovative applications of immersive media solutions across local industries.
Raphael Saul will take centre stage at the Go Blue Disruptive Leadership conference to impart his wisdom on "Developing Strategic Leadership Capabilities."  As a dynamic speaker, Raphael will surely capture the conference's audience as he shares his experience.