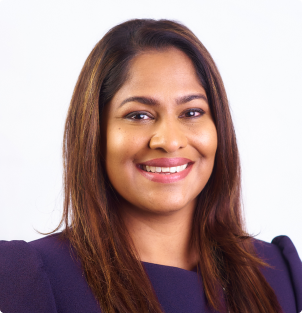 Tricia Kissoon, the groundbreaking CEO of JMMB Investments and Securities, is a driving force in the financial services sector. With over 18 years of experience, she's on a mission to impact the lives of those she serves positively.
Tricia's academic prowess shines through with a Bachelor of Sciences in Economics and Finance from the esteemed University of the West Indies (UWI) and a Master of Business Administration (MBA) from Edinburgh Business School. Her thirst for knowledge and relentless pursuit of excellence have been instrumental in her rise to prominence.
What sets Tricia apart is her unwavering passion for driving change. She empowers her clients to achieve financial freedom while nurturing her team members to reach their full potential. Her leadership extends beyond her organisation as she serves as a director of the Mutual Fund Association of Trinidad and Tobago (MFATT) and the Securities Dealers Association of Trinidad and Tobago (SDATT).
Tricia Kissoon is not content with just personal success; she's actively involved in shaping the industry's future. She's a dedicated member of the American Chamber of Trinidad and Tobago (AMCHAM T&T) Environmental, Social, and Governance (ESG) Committee and also serves as the Chairwoman of the ESG Banking and Finance Sub-committee. Her commitment to ethical and sustainable business practices is evident in her every endeavour.
At this year's Disruptive Leadership Conference, Tricia Kissoon will share her insights on "The Leader's Role in Innovation." Conference attendees will learn from her expertise, dedication to the financial field, and her unwavering commitment to driving positive change.